With longer days and better weather, many residents are already making healthy choices towards more outdoor activity.
And according to experts, March is the right time to transition from heavy winter clothing and heavy winter meals to lighter – and perhaps, tastier – options available to home chefs.
The Fulton County Partnerships to Improve Community Health program has initiatives under way "to provide greater access to – and varieties of – healthy food and beverage options for residents," according to county Department of Health and Wellness spokeswoman Sonja Steptoe.
Its nutrition-related activities include working with the nonprofit Center Helping Obesity in Children End Successfully.
"[It] holds free Cooking With CHOICES classes that are partly sponsored by the Fulton County Behavioral Health Department," Steptoe said. "The classes are an effort by the sponsor organizations, including the behavioral health department, to teach Fulton County families how to live healthier by making food at home."
Changing behaviors can change families for the better, nonprofit founder and Executive Director Vanetta S. Keyes said at a recent class graduation, which included cooking and serving a full meal, at the Oak Hill Child, Adolescent and Family Center near East Point.
"The class is really all about nutrition. It's a program that is teaching families how to make a nutritional meal at home without a lot of added sodium, fat or sugar. If we can teach our children how to cook, we can put them on the right path to a lifetime skill in the kitchen," said Keyes, whose daughter Ashley is the nonprofit's executive chef and class instructor, assisted by Atlanta Technical College and Le Cordon Bleu students.
The county and nonprofit also work with Atlanta Fulton Family Connection, coordinated by Janet Adams, who said the shared learning experience helps the message move from the teaching kitchen to the residents' kitchens.
"They cook together. If you don't reinforce with the parents, then the child will not actually have a change that will take place in their diet at home," she said. "So we want the parents and the children to be trained how to eat healthy."
Adams said the three organizations create a perfect collaboration.
"You have a political entity and two nonprofits who came together and said we're going to work for nutrition in an area where you have a food desert as far as fresh fruits and vegetables," she said.
In their second year, classes have already doubled in frequency and now are held every three months.
"This is a pilot program. We hope it might spread throughout Fulton County," Adams said. "We know there are other families in need in other communities."
The county is working on it, as evidenced at last week's commission meeting when Cooperative Extension employees who work on the Fulton Fresh mobile farmers market program gathered to hear March declared as National Nutrition Month.
"We have a different approach to addressing nutrition – we actually teach nutrition education classes and we give you a sample of something healthy to eat," said Cooperative Extension Director Menia Chester. "We have done some great work that has been duplicated in DeKalb County with their Green Bus; Clayton County is coming online in May and so is Cobb County and Chatham County. So we're very excited that the work that we are doing in Fulton County is very, very innovative."
Commissioner Joan Garner, whom Chairman John Eaves called the "health and wellness commissioner," delivered the proclamation.
"Eating nutritious food is the foundation of living a disease-resistant healthy life," she said. "Everything a person eats and drinks matters."
Garner said county programs can teach residents how to grow, shop for and prepare nutritious meals for a lifetime of healthy living.
"All citizens are encouraged to 'savor the flavor' of healthy foods," she said about the month's theme.
Kristen Smith, Atlanta Medical Center – South registered dietitian and nutritionist, agreed.
"Many people have the impression that healthy food can't taste great. That's simply not the case," she said in a statement. "By adding some healthy flavor to healthy foods, you can enjoy the lower calories without sacrificing taste."
Smith said lemon and lime juice, hot sauce, fresh herbs, low-sodium broth and flavored vinegars are five ways to start replacing salad dressing and other oils.
"Apple-cider, balsamic, or red wine vinegar are a few of the flavored vinegar options available to add a sweet flavor to your food," she said. "With such a bold flavor you only need a small amount. Drizzle your vegetables with a hint of vinegar prior to roasting or use as a salad dressing."
The goal of the annual 31-day observation, established in 1980 by what is now the Academy of Nutrition and Dietetics, is to create a healthier America by helping consumers make healthful food choices and adopt "a balanced lifestyle, including adequate amounts of physical activity," Smith said.
---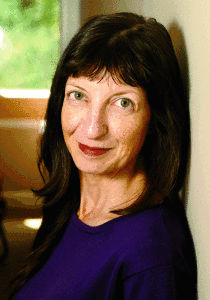 Noreen Cochran is the editor of the Henry and South Fulton Neighbor newspapers and a former New Yorker. She earned an undergraduate degree in drama from New York University and attended Georgia State University's journalism school.